We've drooled over Kenny Sebastian, we've drooled over Chris Pratt, now it's time we drool over them together!
Yes, you read that right. In a new video, we can see Kenny interviewing Chris Pratt for the promotions of his upcoming release Guardians Of The Galaxy Vol. 2. Directed and written by James Gunn, the movie is all set to release on 5 May in India in four languages- Hindi, English, Tamil and Telugu.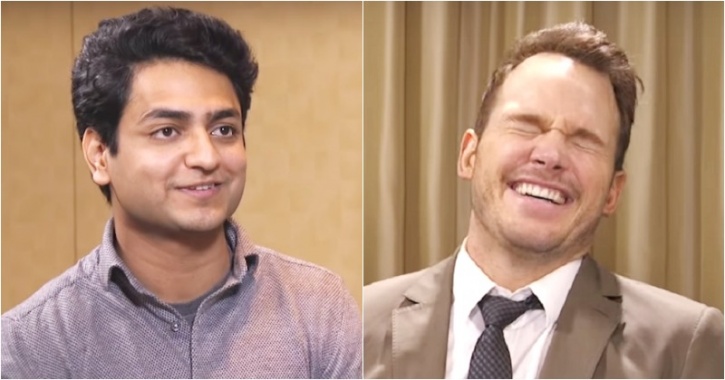 It has only been barely 2 hours since the video was released and it's already doing rounds on the internet. The video was shot in Tokyo, Japan about two weeks back when Kenny went there. It's a hit with the Indian audience specially. Kenny starts off by giving Chris Pratt an extremely stupid but adorable (cause it's Kenny) drawing referring to Chris as 'Crisp Rat'.
What ensues is one of the most hilarious encounters we have come across in a while. Kenny does a really good job at teaching Chris two Hindi words- Abbe and Thik Hai, and Chris does an ever better job at employing these words to answer a few questions. This is the best segment of the video.
What follows made everyone's mouth water because Kenny asked Pratt if he has ever had a chance to try butter chicken. When Pratt answers in the negative, Kenny makes him rap about the dish that all Indians know has descended from heaven itself *runs to fetch a plate of butter chicken*.
The video even features Pratt reacting to a desi mash up of Jhoom Jhoom Jhoom Baba and the Guardian Of The Galaxy Vol. 2 trailer.
Here's a link to the must watch video (specially for Chris' enunciation of Abbe and Thik Hai):
By Tanishka Goel