An actor par excellence who has worked in Indian films across various languages, Pakistani, Hollywood and British films, Om Puri, left us on 6th January. To say he's left the cinema devoid, would be an understatement. The veteran actor Om Puri, began his journey in the industry as a theater personality, has ruled the cinematic arena with his stellar performances in films ranging from mainstream, art and crossover movies in India as well as in the US, Pakistan and Britain. He won the Padma Shri, which is among India's highest civilian awards.
At a time when good looks were thought to be the primary qualification of an actor, Om Puri with his pox-marked face and a stern countenance changed the perspective with his terrific performances in films like Bhumika, Aakrosh, Ardh Sathya, Mirch Masala and many others.Om Puri is fondly admired for his impactful dialogues and natural onscreen demeanour.
His sudden demise has saddened the world, but as they say, an artist is always immortal for he lives through his oeuvre.
So, let's celebrate this gem of an actor with some of the best words that have ever been delivered in the movies.
Om Puri in Mirzya:
"Hota hai, aksar hota hai, ishq mein aksar hota hai, chot kahin lagti hai jakar, zakhm kahin par hota hai" – "In love, your wound is somewhere but it hurts somewhere else"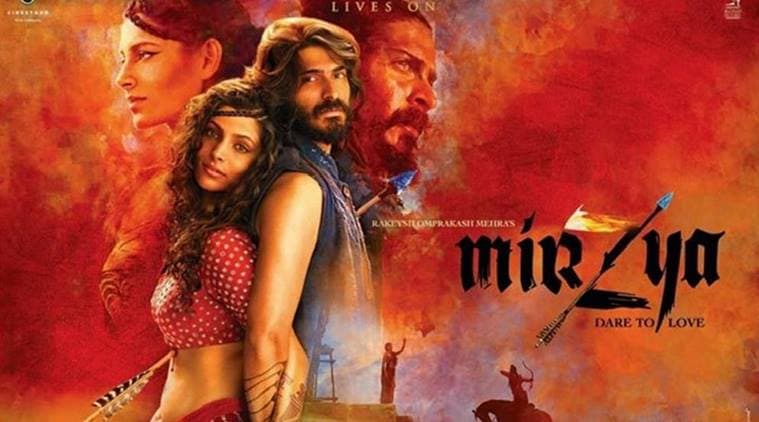 Source: The Indian Express
In this 2016 love story, Om Puri portrayed the life coach to Harshvardhan Kapoor's character. He appeared in a cameo performance and advises a love-sick Mirzya to navigate through life.
Om Puri in Narsimha:
"Mera farmaan aaj bhi iss shehar ka kanoon hai" – "My orders are still the laws of this city"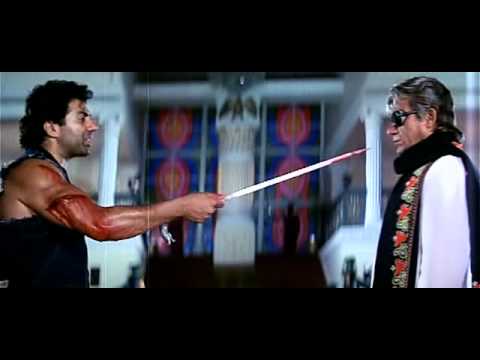 Source: Movie World
Om Puri featured as a capitalist in Narsimha, who ruled over the city owing to his wealthy status and captured everyone's attention with his wonderful dialogue delivery.
Om Puri in OMG – Oh My God!:
"Mazhab insaanon ke liye banta hai, mazhab ke liye insaan nahi bante" – " Religion has been made for humans and not vice versa."
Source: Rajeev Mehta
Om Puri played the role of Hanif Qureshi, a disabled Muslim advocate, who fights a case for a poor shopkeeper in the courtroom drama.
Om Puri in Kurbaan:
"Yakeen ko hamesha waqt ke peeche chalna chahiye … aage nahi" – "belief must always follow time and not precede it"
Source: News18
The world saw Om Puri play a terrorist in Kurban. Om Puri co-starred with Kareena Kapoor and Saif Ali Khan in the 2009 film and made the world awe once again.
Om Puri in Chakravyuh:
"Main aise loktantra mein vishvas nahi karta, joh gareebon ki izzat karna nahi jaanta" – "I have no belief in a democracy which does not respect the poor"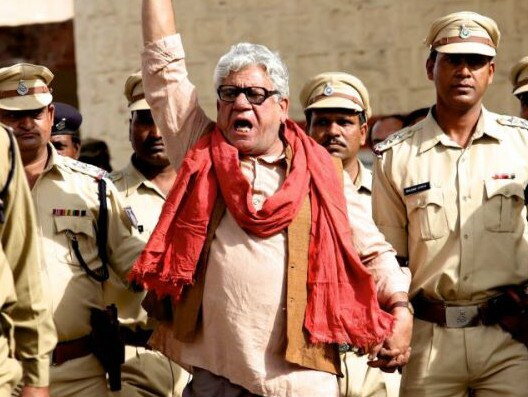 Source: NDTV
This magnificent line combined with the impactful Om Puri, in the 2012 political drama loosely based on Naxalite leader Kobad Ghandy did wonders over the audiences.
Om Puri in Jaane Bhi Do Yaaro:
"Draupadi teri akele ki nahi hai … hum sab shareholder hai" – "Draupadi is not just yours… we are all equal shareholders"

Source: India Opines
Om Puri brought alive the character of a corrupt property builder in the 1983 laugh-riot Jaane Bhi Do Yaaro, which received the status of a cult film over the years. Before terming these hilarious words, a patriarchal issue, let's just say Jaane Bhi Do Yaaro. 😉
Om Puri in Heartless:
"Ek katra jab zara sa ubharta hai, toh samundar ke lehje mein baat karta hai … chhaton ke diye kab ke bhuj gaye hote, koi toh hai joh hawa ke par kattarta hai … aur zameen ki koi vakalat nahi chalti, jab koi faisla aasman se utarta hai" – "When one drop rises a little bit, then it talks in the form of a ocean. The candles on the roof would have blown off a long time ago, but there is someone who is cutting the wings of air; and the ground has no case, when the decision comes down from the sky"
Source: SongSuno.com
Om puri left the audience in tears with his amazing performance in this 2014 thriller filled movie featuring Shekhar Suman's son.
All in all, Om Puri Om Puri has made a  significant place for himself in Bollywood and will continue to be remembered for ages to come. Let's not dwell on this loss to the cinematic culture and be happy for his contribution, as Om puri himself said, "Hamare dhande mein aasunyon ke saath koi rishta nahin hota" (There is no scope for tears in our profession) 💙
By Vasundhra Aggarwal